Protein bars are a great way of getting additional protein in our diet, especially if we do a lot of exercise and want to gain muscle mass.
They provide useful energy to sustain you through workouts, without containing the high amounts of carbohydrates and sugars you would find in other snack items.
You can buy protein bars in all sorts of different flavors – you can try a different one every day, or you could stick to what you know you like.
There are so many protein bars on the market these days that it can almost seem like we're spoiled for choice. However, not all protein bars are created equal, and some of them are definitely to be avoided because of the way they taste.
They may not be bad, but they're certainly not up to the standard we've come to expect from products in what nowadays, is such a competitive industry.
There are few things that are more off-putting when you're trying to introduce a new dietary supplement than biting into it and getting a mouthful of bland mush.
You might wonder what all the fuss is about anyway, which can lead you to reach for your favorite chocolate bar instead – this is not ideal when you're trying to get fit, and can definitely hinder your progress.
What you really want is something that will keep your interest and make you actively enjoy eating it.
Of course, different people have different preferences when it comes to how they like their food, so we're not saying there's a one size fits all solution.
What we are saying is that there are certain brands that have a superior flavor, so you don't need to waste your time with ones that will only disappoint you in the long run.
Join us as we discuss some of the best protein bars we've ever tasted, allowing you to cut out the fluff and get right to the good stuff.
No products found.
From the look and taste of this bar, you would assume it to be just another unhealthy candy bar; instead, it is packed full of useful protein and far better for you!
The thick chocolate chunks and sweet caramel melt deliciously in the mouth, and you can eat it without any guilt creeping in to ruin the enjoyment.
You get an impressive 20g protein and 15g fiber per 60g bar, and that's with only 1g sugar and 4g net carbs. That's a lot of protein for such a small bar, giving you a much-needed energy boost and a tasty treat at the same time.
Quest protein bars are available in many different flavors, but this was our favorite of the ones we tried. If caramel isn't really your thing, why not try blueberry muffin, chocolate brownie, chocolate peanut butter, or cookies and cream instead?
These are just a few of the protein bars in the range, so it's easy to find at least one you'll love.
Pros
Tastes just like a candy bar, but with less of the bad stuff and more of the good stuff
Perfect for satisfying your caramel cravings
Contains a very high amount of protein per calorie
The brand offers loads of different protein bar flavors
Cons
Small bar compared to many others, so may not satisfy you fully
The picture on the packaging doesn't accurately resemble the inside product, so some people may find this misleading
No products found.
No products found.
You may think that maple and sea salt is an interesting combination for a protein bar, or indeed any food item. It's certainly an unusual flavor among the protein bars we've tried, but it definitely works!
The world is experiencing a sea salt buzz when it comes to confectionery, and the tangy salt really balances the sweetness of the other ingredients.
Each 52g bar has 12g protein, 4g fiber and 14g sugar. While the sugar content is high, it is all natural sugar found in the dates and other ingredients.
There is not as much protein as you would get in many other bars, but it should still give you a decent boost.
One of the best things about RXBAR as a company is that their protein bars are all gluten-free and don't contain any added sugar. This means you can enjoy them without feeling guilty about what you're putting in your body.
The front of the packaging clearly states all the ingredients, so you can see exactly what's involved in making them.
Pros
Only natural sugars – no added sugar in the bars
Ingredient list printed on the packaging for transparency
Deliciously balanced salty and nutty flavor
Gluten-free, so can be enjoyed by celiacs
Cons
High in sugar and total carbs
No products found.
No products found.
If you thought our last pick was an unusual flavor, wait until you see this one: these bars have bison, bacon and cranberry, which all work surprisingly well together.
Just as we often pair cuts of meat with fruity accompaniments such as cranberry sauce, EPIC have achieved a similar effect here.
Protein bars are often sweet, but this particular product is mainly savory – perfect for if you don't have much of a sweet tooth.
The bars in question contain 7g protein, along with 8g carbs and 130 calories. There are bigger bars you can get that have 11g protein, which would be a more substantial snack than the small 37g portions – however, these are a handy size to put in your bag for whenever you need one.
EPIC has a whole range of meat-based protein bars, and all animals involved in the manufacturing process have been fed on a 100% grass diet. They are also gluten-free and paleo friendly, which means they cater to specific dietary requirements well.
The taste of these bars really lives up to the brand's name, making you feel epic at any time of the day.
Pros
Made with sustainably-sourced meat and other ingredients
Intriguing flavor that you may not have heard of before but tastes great
One of the best brands for savory protein bars
Cons
Very small portion size, which may leave you needing further sustenance
No products found.
No products found.
Who doesn't love the spicy taste of cinnamon? This flavor is found in many sweet creations, from cinnamon buns to apple pies, and it is also a popular topping for pancakes and lattes.
Here, it is teamed with crunchy sunflower seeds for a simple, delicious protein bar. The taste conjures up memories of your favorite granola, but with even more oomph to start your day off right.
The bars weigh 60g each and full of natural goodness – 15g protein, as well as 2g fiber. They have 280 calories in total, 21g carbs and 12g sugar.
Only 5 ingredients are present in total, so you won't find any nasty surprises or things you weren't expecting.
Rise markets themselves as a plant-based protein bar company, which means that all their ingredients are derived from plants rather than animals.
This is great news for vegans, who especially need to supplement their protein when they are training. The bars use pure pea protein, which is easy to digest and suitable for a paleo diet.
Pros
Contains only 5 ingredients that are all plant-based
Big enough to satisfy your post-workout hunger cravings
All bars are handmade, showing the staff's dedication to their craft
Cons
High in sugar and carbs, so you should be wary of consuming too many
Slightly more expensive than average
No products found.
No products found.
Imagine the gooey deliciousness of cookie dough, but in a way that's somehow good for you. Well, now you don't have to imagine – these chocolate chip cookie dough protein bars offer you just that!
They simply melt in your mouth with every bite and fill you with a sense of childhood nostalgia, while providing some vital protein to support you through the most intense workouts.
There is 8g of protein in every 26g bite-sized bar, along with 1g fiber, 10g carbs and 8g sugar (3g of which is natural sugar).
They also contain a significant amount of collagen – this is vital for keeping your body strong and healthy, but most people don't actually ingest enough of it in their diet.
Although the serving size is small, it packs a powerful punch.
Elavi uses natural ingredients and non-dairy protein in their products, which really contributes to their great taste as well as their health benefits.
The brand is also known for its superfood usage, with ingredients such as dates, cacao and organic honey.
The protein bars are approved by both athletes and dieticians, who personally eat and recommend them.
Pros
Cookie dough is irresistible to most, and you can enjoy it guilt-free
Dairy-free, gluten-free and contains absolutely no GMO
Great source of collagen for sustaining and creating body tissue
Cons
Portion size is small and can leave you hungry
Contains 5g added sugar on top of the natural sugars already there
No products found.
Buyer's Guide
There are many factors to consider when it comes to buying a great protein bar, so it's not as straightforward as picking up the first or the cheapest one you see in the store.
As we've already mentioned, there is extensive variation in the protein bar market, and not all bars will be as effective for your exercise endeavors. Here are some things to think about to get you started.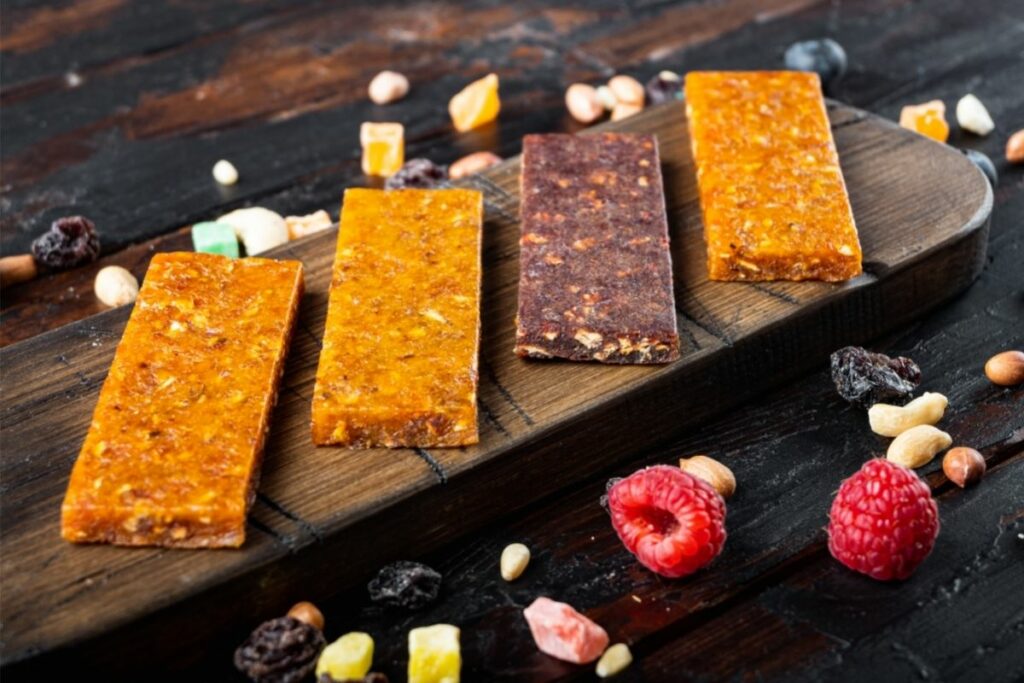 Ingredients
It sounds obvious, but the first thing you should do is check the flavor of the bar – if it's not something you like, there's no point getting it. The flavor is likely to represent the highest percentage of the ingredients, so it's not as if it will be covered up easily by other things.
Protein bars are designed to be enjoyed, which means you shouldn't buy one if you're just going to grin and bear it. Plus, they come in all sorts of flavors these days, so there's bound to be at least one you like.
Many protein bars will have certain ingredients that provide extra protein and other nutrients. Nuts are a very popular option because they are full of antioxidants and can help reduce the risk of heart disease.
However, many protein bar manufacturers these days are moving away from nuts and making nut-free alternatives, because of the high number of people who suffer from nut allergies.
It goes without saying that anyone who is personally allergic to nuts should make sure their protein bars do not contain nuts before consuming them.
Protein
Exactly how much protein should your protein bars provide? Well, there's not a set amount, but most protein bars contain around 15-25g of protein.
Anything less than 15g probably isn't worth bothering with, and you're best looking for bars towards the higher end of the protein scale.
You can even get bars with up to 30g of protein, although they will generally be the more expensive options. Also, checking the protein content will help you make sure that it actually is a protein bar, rather than a general energy bar that is more carb-based.
These are more suitable for endurance exercise, for which you will need a lot of carbohydrate to sustain your energy throughout long periods of time.
Protein bars work best for short bursts of high-intensity exercise, where you are more likely to strain muscles and need a quick boost afterwards.
Calories
Calories are units of energy, so it makes sense that a protein bar may be calorie-dense to be able to provide you with enough energy to replace a substantial meal.
One of the things you should take note of is how much protein it contains per calorie – it is fine for a bar to have higher calories as long as its protein content is relative.
For example, a bar with 200 calories might give 15g protein, whereas a 250-calorie bar could have 25g. In this case, the bar with higher calories represents a better ratio of protein to calories.
Protein bars that are high in calories but have a relatively low amount of protein will be padded out with sugar and other forms of empty calories. These won't help sustain you well, as it's the more complex energy and protein that your body really needs.
It is best to check the ingredients to see if you can work out where the bulk of the calories are coming from. Sometimes, manufacturers may load their bars with artificial sugars such as xylitol and sorbitol to reduce the overall number of calories.
These replace the natural sugars found elsewhere but are no healthier, so you should be wary of bars that contain them. One issue you could face with them and similar sugar alcohols is gastrointestinal problems, which certainly isn't ideal for when you're about to exercise.
Frequently Asked Questions
Why Are Protein Bars Useful?
It's pretty obvious that protein bars contain protein, but why does that actually help with fitness? Well, our muscles are placed under a lot of strain during intense workout sessions, and can even rip slightly.
This isn't anything to to worry about, because our bodies can repair the tissues and keep us in a functional condition.
However, they need protein to be able to do so, which is where protein bars come in – we can give our bodies a welcome boost in that department following a workout, and we'll often find that our muscle soreness dies down quicker.
Can Protein Bars Replace Other Proteins In The Diet?
It's important to note that, while protein bars are a great source of protein, we should still consume as much protein from other foods as we do normally.
If we try to take out all other proteins in favor of protein bars alone, we will soon come unstuck because they are no substitute for natural protein sources we get elsewhere.
We should therefore only eat a protein bar in place of a full meal on occasions where it is convenient to do so, such as when we need to eat on the go.
We don't need to worry about overdosing on protein when we start eating protein bars on top, as it won't be dangerous to go over the RDA for our body weight.
The most important thing is to maintain a balanced diet – if anything, we should be limiting our sugar intake from other foods to accommodate protein bars, rather than our protein intake.
It is often the case that protein bars will contain high amounts of sugar, so sticking to protein bars as our main energy snack when working out is ideal.
Can Protein Bars Aid Weight Loss?
Many people assume that, because protein bars are recommended for working out, they will actually help with weight loss itself.
This can be the case in some situations, as they fit well into specific weight loss plans and are a better option for energy than a candy bar or other sugary snack.
However, they are not super healthy in isolation, so we should definitely watch how much we consume when we're trying to lose weight, and not use them as adequate meal replacements.
It is also a good idea to look for low-sugar bars that are packed with other nutrients as well as just protein.