When it comes to a good night's rest, you are going to want a high-quality pillow.
Average pillows often do not make the cut as they do not provide a lot of support for your head and neck, meaning that you will probably wake up with a crick or stiffness in your shoulders that is uncomfortable and annoying.
This can also affect the rest of your day, ruining your workout session and putting you at risk of injury.
So to avoid these issues, you need to have a pillow that provides the right amount of support so you can enjoy a deep sleep and be pain free the next day.
Sutera is a company that claims to have made such a pillow with their Sutera Dream Deep Pillow – a pillow that is uniquely designed to help you end your search for the perfect pillow.
But does it hold up?
We are going to be reviewing Sutera's Dream Deep Pillow along with their other pillow product, the Lavender Zen Memory Foam Aromatherapy Cooling Pillow.
We have put each one to the test, so let's find out if these pillows are worth your time and energy!
Materials
Material wise, we are quite impressed with the Sutera Dream Deep Pillow.
No products found.
It is made from firm memory foam that rebounds very quickly, meaning that this pillow should definitely keep its shape well even after regular use.
We found no need to constantly 're-fluff' or try to reshape the Dream Deep pillow even after a few uses, so it retains its shape very well.
Of course, nothing lasts forever – expect some degradation over time but you should not see this happen for a long while after you start using this pillow.
This makes the Dream Deep pillow a nice durable choice for those looking for a long-lasting memory foam pillow – just don't expect a lot of choice when it comes to the material.
You only get one firmness option, and that's it. While other companies will offer you some choice to suit your needs and preferences, Sutera's pillows all come with one firmness option.
So for those who need a plusher or firmer memory foam pillow, you will be better off looking elsewhere if you find this pillow does not meet your needs.
However, there is no denying that Sutera has used some fine and high quality materials to make their products.
We found the same firmness and comfort with the Lavender Zen pillow, so both pillows are great options for those seeking a supportive pillow to rest their head on at night.
Both pillows use comfortable memory foam that is durable and supportive, but the lack of choice when it comes to firmness options means that not every customer will be satisfied.
Design
One of the main differences between Sutera's Dream Deep pillow and Lavender Zen pillow are the designs and shape of each pillow.
While the Lavender Zen is shaped like a regular pillow, the Dream Deep pillow has a more complex and unique design that helps it suit those with different sleeping positions.
For example, it features an ergonomic butterfly design that helps those who sleep on their stomach. It provides them with a place to put your arms to reduce your chances of experiencing arm numbness as you sleep while also giving your head enough support.
This ergonomic design not only helps support your neck and stops your head from shifting into awkward angles while you sleep – it also has the perfect place for you to put your arms.
Unfortunately, the Lavender Zen does not feature such a contoured design, but it is designed with multiple micro-channels that help make this pillow breathable and ventilated.
No products found.
This is what keeps the Lavender Zen pillow so cool and dry – it's design allows for constant airflow through it so you can enjoy a nice dry, cold pillow all night long.
It is still a comfortable and supportive pillow, just with the added design feature of ultimate ventilation.
That is not to say that the Dream Deep pillow is not breathable. The Dream Deep pillow also features a similar design to help keep the material cool, but it is much smaller and less effective.
Additional Features
A noticeable feature to mention is the lavender scent that comes with the Lavender Zen pillow. This pillow is designed to try and help its owners fall asleep, so it is infused with lavender essential oils to help you relax and fall asleep.
However, everyone requires a different strength of lavender scent to really help them relax so although we found the lavender a little lacking, it might be enough for other customers.
Also, it should also be noted that both pillows feature a removable pillow case that is machine washable on a cold setting.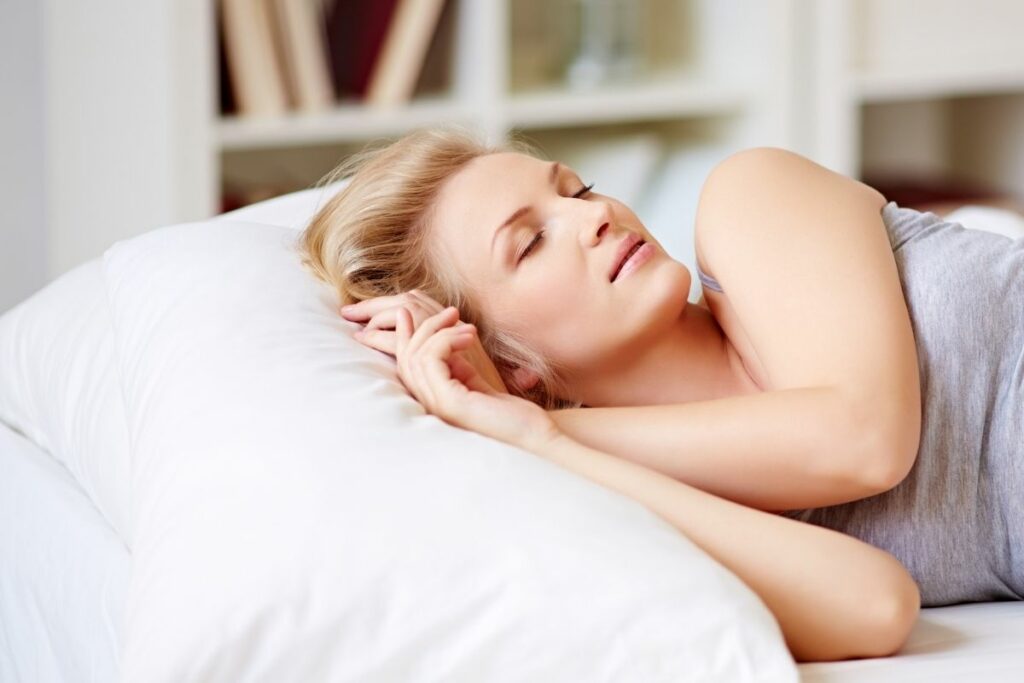 So, this makes both Sutera pillows very easy to clean and maintain as you just have to remove the cover to give your pillow a wash.
It's simple and easy, and we found it to be a very useful feature to keep bacteria from growing on the pillows.
But the main additional feature we wanted to mention was Sutera's offer of a 30-day satisfaction guarantee.
However, we just wanted to make it clear to potential customers that this guarantee only applies in the event of a manufacturing defect and only endured items can be returned within 30 days.
This means that if you tried out your Sutera pillow for a few days and found it to be too plush for your needs, you are stuck with that pillow because it has now been used.
This means that you don't get to actually 'trial' your pillow as you cannot actually try it without making it unable to be returned.
We would like to see Sutera change this in the future to allow its customers to actually try the pillows and return them if they were unsuitable, so this is something Sutera can look into to improve.
Overall Conclusion
So – does the Sutera Dream Deep pillow meet our expectations?
Yes! We can proudly say that we are very satisfied with Sutera's pillow products – both of them!
Both use very high quality materials to make a firm and supportive pillow as we were very impressed with the shape retention with the memory foam.
The orthopedic contour design of the Dream Deep helped reduce any stiffness or pain we sometimes feel in the morning so it is definitely one we recommend if you feel that your pillow is not supporting your head during the night.
We also really liked the Lavender Zen's cooling design (who doesn't love a cold pillow?) although we found that this makes the Lavender Zen a little less supportive when compared to the Dream Deep.
However, the purpose of the Lavender Zen is to help its owners drift off to sleep – which the lavender scent and cold material definitely helped with!
As for any negatives we have for the Dream Deep and Lavender Zen pillows, we have to mention that we would like to see some more variety when it comes to firmness options in the future.
It would be great if each pillow came with a plusher alternative and an extra firm version so every customer can find the right pillow for them.
It would also be an improvement if Sutera changed their trail terms and conditions to allow its customers to actually trail their pillows.
Also, we want to note that there was a synthetic, musty smell that came with the Dream Deep when we opened the box but after airing both pillows for a day before using, the smell was thankfully gone!
If you find you have a similar problem with your Sutera pillow, then try airing it out first.
Despite this, we are happy to say that we recommend the Sutera pillows as they are comfortable and supportive pillows that may help reduce any neck and shoulder pain!
The Sutera Dream Deep and the Lavender Zen pillow are both available on Amazon and on the Sleep Sutera website today!
Frequently Asked Questions
Is Sutera a good brand to buy from?
Sutera is a legitimate US based company that sells more than just pillows. Their range varies from personal healthcare products, towels and bath mats.
They are best known for their pillow range including their flagship product – the Sutera Dream Deep pillow, an orthopedic pillow designed to help support your head and neck. Check out our review to see if it really lives up to its hype!
Why does my Sutera pillow smell so bad?
A lot of products that have been stuck in storage for some time can build up a rather unpleasant odor.
If your Sutera pillow has a bad smell after unboxing, then you should leave it air out for 48 hours in a well ventilated area.
This should help get rid of any musty, bad smells that have occurred during the shipping process.
Can I put a pillowcase over my Sutera pillow?
Yes, of course you can!
Try fitting a regular pillowcase over your Sutera for maximum comfort, or switch to a queen size for extra wriggle room. This will help keep your Sutera pillow cleaner for longer as you can take the pillowcase off to wash regularly.